Grading & Drainage Bloomington Indiana
Poor drainage can lead to various issues including land shifting, runoff and flooding, rotting trees, plant disease and erosion of  the landscape. Wilder Things Landscaping  understands how to prevent or fix issues created by water and we have the right equipment for the job. As we offer best service of Grading & Drainage Bloomington Indiana, you can take from us.
We offer expert solutions for excessive amounts of water buildup including grading, swells, water boxes, dry beds, and perimeter drains to help satisfy your residential or commercial property's storm water requirements.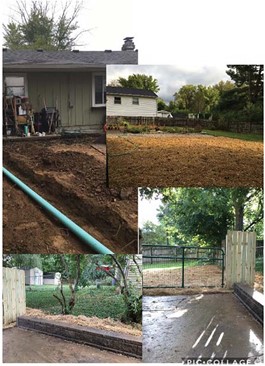 Schedule your free estimate today, and see how our team can help solve your drainage issues.
Why Wilder Things Landscaping is the Right Ones for You!
Enriched with 40 Years of Experience
Fully Optimistic and Licensed to Be Trusted
Legitimate Suggestion with Free Estimation
Priorities on Satisfaction and Clarity
Exact Tools & Proper Plans for Best Results
Providing OMRI Listed
Products
Here at Leafs-U-Green, we pride ourselves in using the highest quality organic products
for our customers' landscaping needs! Trust our team to provide you with nothing but
the best of the best.